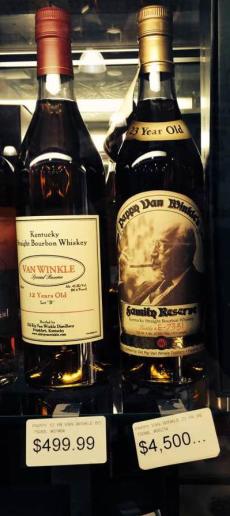 This is the seventh in a series on Bourbon by Zach Pearson. Read them all: Bourbon, Bourbon After the Act, Bourbon: What it is ... and isn't, Making Bourbon, Who Makes My Bourbon, Producer Capsules., Finding the Good Stuff, Tasting the Good Stuff, Neat, Mashbills, Geeky Information and Resources.
So look… this doesn't work in Oregon. The best thing to do here is to keep an eye on the Next Month Price Change list, and find things that you want that are going way down in price. Most recently, this was the infamous Laphroaig 10 for $20.25, but about a year ago, A. de Fussigny Tres Vielle Cognac dropped from $220 to $100 a bottle, and if you know that it's a 50 year old Cognac that hasn't been made in 10-15 years… well, let's just say it was worth the drive to Eugene to pick up two bottles.
It also doesn't work in Washington, which is too new at the private liquor sales game to have dusty old bottles lying around. There's a lot of clean, bright new liquor stores and some helpful people, but taxes being what they are up there… I'd just avoid wasting a lot of time looking in Washington for liquor.