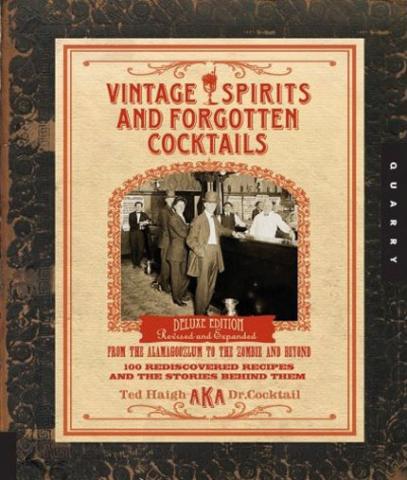 From the Alamagoozlum to the Zombie and Beyond, 100 Rediscovered Recipes and the Stories Behind them
Buy this book. What Ted Haigh lacks in title conciseness, he gives in content quality. The book leads off with a brief history of cocktails. This background provides a context in which to understand the slew of previously little-known cocktails that he selected from the prohibition era and before. These old-and-new-again classics have been adapted as needed for modern tastes and ingredients. Many of the recipes have an interesting history which my guests uniformly enjoy. Other recipes have "drink notes" providing serving ideas, ingredient options, and helpful tips.
With a wire-bound hardcover binding, handsome faux-vintage cocktail pictures, and period photographs, VS&FC can both spiff up a coffee table and lay flat in a bar. The ingredients are clear and presented in both US and metric units. The instructions are written for someone without extensive cocktail knowledge, but the few extra words don't irritate the experienced cocktail-maker.
The main recipe section leads into a couple dozen concise "extra credit" cocktails. Many important better-known cocktails reside here, such as the Negroni, Sazerac, and Sidecar. These recipes broaden the appeal for the cocktail novice, although many readers will already have these recipes elsewhere. That said, it's reassuring to read Ted's take on appropriate ratios and ingredients. He is, after all, known as Dr. Cocktail.
Ted selected twenty-five "Pioneering Champions" — influential on-line writers. For those who follow blogs and social media, the names and websites will be familiar, but the biographies perhaps not. I found this unexpected bonus entertaining. These are writers worth seeking out and following.
A Resource Guide discusses many of the less obvious ingredients. For those able to order on-line, the listed website addresses are helpful. He recommends specific brands and offers alternatives for hard or impossible to find ingredients.  
The book closes with a comprehensive bibliography and index of cocktails by liquor. No index by cocktail name is needed, since they are presented alphabetically, an ordering I prefer. I do wish that some of the more important resources in the bibliography were highlighted as the list is overwhelming.
I highly recommend this book. It contains interesting uncommon historic cocktails, good research, and lots of solid information. Ted writes with a light unstuffy tone, making for easy reading. This might not be the first cocktail book that I'd recommend to a novice, but it might well be the second. And everyone else should have a copy.
by Dan Chadwick