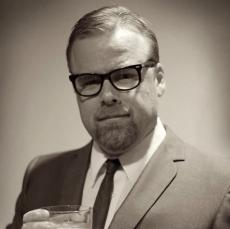 Membership
User since 12 years 6 months ago.
Contributions
121
cocktails
posted.
121 cocktails in cocktail book.
Real-life Name
Stew Ellington
About me
In preparing to host a 1960s-themed cocktail party, while researching the popular libations of the time, Stew Ellington became enchanted with the culture and history behind cocktails and spirits. He soon began mixing cocktails at home for fun, which led to a self-educating project of mixing 1,000 cocktail recipes and photo-documenting them, just for shits and giggles. Inevitably, his survival instincts and the encouragement of friends persuaded him to try to make the project lucrative. And, lo, several years and well over 1,000 mixed drinks later, a book was born!
Fueled by a passion for mixology, Stew has written, designed, shot all of the photography for, and self-published (with a little help from Kickstarter) what he believes is a uniquely helpful cocktail recipe book. He's come up with 68 creative lists with which to organize a large number of drinks and help you find what you're in the mood for while having a lot of fun doing it.
The book is a comprehensive snapshot of the cocktail's great history as well as a document of what's happening right now in the world of mixology, which is currently experiencing a huge renaissance. It's full of delicious classic drinks from the 19th and 20th centuries as well as current and cutting edge libations from some of the best bars and restaurants around the world. Stew has taste-tested and star-rated all the recipes himself—filtering out any undesirables—and made them available to you at home in a practical guide, cutting your travel expenses by 100%!
In addition to looking great and being highly giftable, the book has been designed for practicality and ease of use at the bar. The cover is laminated and the pages are gloss-varnished, providing moisture resistance in the event of spills, drooling, etc. It has a spiral binding that allows you to lay the book flat while you're working from any given page.
Stew Ellington is an artist and photographer who holds an MFA in painting. He writes for a living. He's a BarSmarts certified cocktail enthusiast and history buff, as well as a stay-at-home dad, web designer, dog enthusiast, skier, hiker, Californian, skateboarder, music lover, runner, yoga-er, traveler, and vintage scooterist.