Instructions
Stir with ice. Strain into rocks glass over large ice. No garnish.
Notes
No garnish. Originally, this drink called for Chicory & Vanilla Bitters from Drunken Crane bitters, but other vanilla bitters will work as well.
History
A cocktail of Rye Whiskey, Smoky Mezcal, Benedictine Liqueur and Chicory & Vanilla Bitters made for the perfect drink to capture Los Angeles in a glass. That was the goal of the LA distillery, Greenbar Collective. The contest took place back in the spring of 2014 and was their goal was to find a drink that would be to LA what the Manhattan was to New York.
I really wanted something where you could taste the sunny, sandy, smoggy, glitzy, palm-lined, paved chaparral, suburban-sprawl, melting pot of the Los Angeles Metro Area—known to newscasters as The Southland. More importantly, I wanted to use all-booze ingredients that were shelf-stable. I originally tried it with other bitters, but then a friend of mine, Michael Crane, gave me a sample of his newly minted Chicory & Vanilla bitters, which took it to the next level because they really helped punch up the Benedictine.
Cocktail summary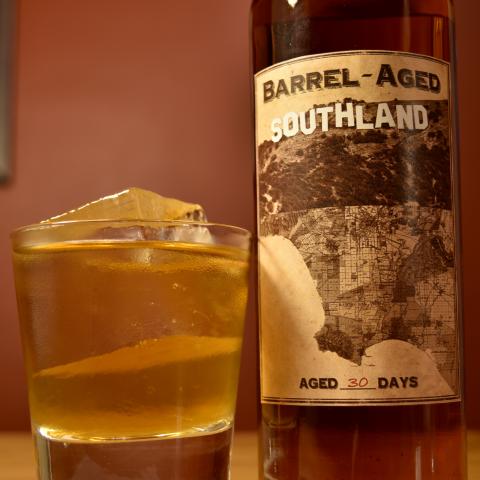 Created by
Distinguished Spirits
Is the
author's original creation
Rye, Mezcal, Bénédictine, Bitters
PT5M
PT0M
Cocktail
Cocktail
1
craft, alcoholic