3⁄4

oz
Singani,

Singani 63
3⁄4

oz
White grapefruit juice (pink will work)
1 rinse
Absinthe,

Copper & Kings Absinthe Superiore
1
Maraschino cherry, Luxardo (garnish)
Instructions
Stir all but absinthe and cherry with ice. Strain into a chilled glass, rinsed with absinthe. Garnish with a Cherry.
Notes
A couple pumps of an atomizer works best for the absinthe. Usually with citrus, you want to shake it, but this one has a better mouthfeel if it's stirred.
History
This is an original drink inspired by Eartha Kitt. The recipe started off as a riff on a Corpse Reviver #2, but through a lot of trial and error it ended up back closer to the starting line, only with components swapped out.
I originally wanted to come up with a pun that would act as a tip of the cap to the drink's Corpse Reviver roots, but the name I privately used to refer to the drink was "Earthy Kitt" because the flavor profile was so earthy. The Eartha Kitt angle stuck with me. I was reading her first book, a memoir chronicling her childhood through young adulthood, which might of had something to do with it being on my mind. The book was called, Thursday's Child.
Because this drink uses citrus juice, conventional wisdom dictates that it should be shaken, not stirred. But shaking it aerates the drink and I prefer the silky, sensuous texture you get when the drink is stirred. Which, for this drink, creates the purrfect mouthfeel. Enjoy!
Cocktail summary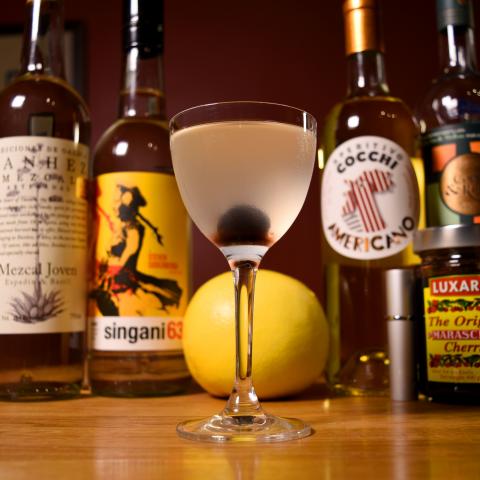 Created by
Distinguished Spirits
Is the
author's original creation
Mezcal, Singani, Aromatized wine, Absinthe, Maraschino cherry, White grapefruit juice
PT5M
PT0M
Cocktail
Cocktail
1
craft, alcoholic