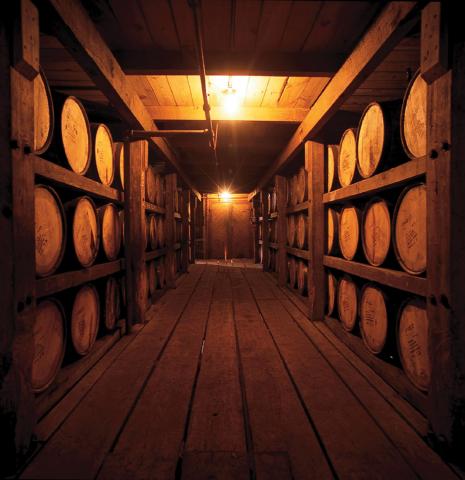 This is the sixth in a series on Bourbon by Zach Pearson. Read them all: Bourbon, Bourbon After the Act, Bourbon: What it is ... and isn't, Making Bourbon, Who Makes My Bourbon, Producer Capsules., Finding the Good Stuff, Tasting the Good Stuff, Neat, Mashbills, Geeky Information and Resources.
Buffalo Trace
Distilling at what is now Buffalo Trace in Frankfort probably began in the 1850's, but Edmund Haynes Taylor (yes, there's an E.H. Taylor line) bought whatever was there and renamed it the "Old Fire Copper" distillery (OFC) in 1870. After an 1872 expansion, George T. Stagg (yep, there's a BT label named after him as well) bought the place in 1878 only to have it struck by lightning and burn to the ground merely four years later. The 16 year old Albert Blanton (you guessed it – more whiskey named for him) started there in 1897 and was promoted to Superintendent in 1900. As Prohibition was winding down, the Schenley company bought the distillery, now named after Mr. Stagg in the wave of consolidation that saw distributors and marketers own distilleries.
In 1983, the plant was sold to some investors who were focused on the Japanese market under the name Age International. Though other companies will argue this point, what is now these investors did come up with Blanton's. the first "single barrel" Bourbon in 1984.
The distillery and all of its brands were sold off to United Distillers and Vintners (part of Guinness) in 1987 and it went through a bit of a rough patch which culminated in the Sazerac company buying the Stagg Distillery in 1992. After seven years of renovation, Sazerac rechristened their property the Buffalo Trace Distillery to coincide with its new brand of Bourbon.
Buffalo Trace's flagship product is Pappy van Winkle, but they're also famous for the now hard to come by and rather expensive Antique Collection: Eagle Rare 17, George T Stagg, William Larue Weller and Thomas Handy Sazerac Rye and Sazerac Rye 18. They're also famous for the delicious and much cheaper Weller lineup.
Beam
So… the Beam family. To make a very long story short, Johannes Jacob Boehm, a German miller, emigrated to the United States. By 1795, he and his wife Mary lived in Kentucky. As a miller, and like most people living on the frontier at the time, the Americanized Jacob Beam distilled some whiskey. And like a most farmers of the day, they had a lot of children. And their children had a lot of children, and so forth and so on. As a matter of fact, the Beams are related to most of the other big distilling families in Kentucky. A lot of these descendants became involved with some of the great distilleries of the 19th and 20th centuries, then promptly failed at doing anything but distilling during Prohibition – there were some plays in citrus farming and coal mining that didn't end well.
Some members of the family disassembled their stills and carted them to Mexico. But after the end of Prohibition in 1933, the Beam family was right back at it, distilling the first legal whiskey after the long national dry spell. In this nascent renaissance of Bourbon, when there were only 61 distilleries in Kentucky, six of them had a Beam as their Master Distiller.
While Beam family members have worked at Stitzel Weller, Four Roses and Heaven Hill, there's a distillery that bears the name of their ancestor James Beauregard (Jim) Beam – he's the great grandfather of Fred Noe who manages the place today. Fred's father is Booker Noe, who you may recognize from bottles of Booker's Bourbon, part of their Small Batch Collection: Knob Creek, Baker's (that'd be Baker Beam, Booker Noe's cousin), Booker's and Basil Hayden's. A lot of their flagship Jim Beam is out there, and while it's solid, they're starting to flavor a bunch of it, which is depressing.
Last year Beam was bought by the Japanese whiskey company Suntory.
Heaven Hill
The Heaven Hill story is, compared to a lot of the other distilleries out there, remarkably simple. It was founded in 1935 by the five Shapira brothers as the Old Heaven Hill Springs Distillery. Like every other distillery in the country, it was transitioned over to providing industrial alcohol for the war effort. In 1946, they hired Earl Beam to be their Master Distiller, a position his son Parker held and grandson Craig now has.
While Heaven Hill is known for quite a few Bourbon brands, including Evan Williams, Old Fitzgerald and Elijah Craig, they have since the 1980's diversified into liqueurs, rums, tequilas, Cognacs and flavored whiskies (mainly under the Evan Williams label). They're still owned by the Shapira family.
The fancy Heaven Hill whiskey is the Parker's Heritage Collection, now in its eighth release.
Four Roses
Now owned by Kirin and in wide distribution, Four Roses is a very interesting brand. It was an incredibly popular Bourbon in the decades after Prohibition, but their owner at the time, Seagrams, was more focused on the Japanese market, where all the production was shipped. They're now famous for having 10 different Bourbons that are blended to make quite a few products under the Four Roses label – more about that in an upcoming installment.
Distilling at the Lawrenceburg site has been going on since the earliest settlers moved to the area. "Old Joe" Payton had a distillery there in the 1820's, and the site changed hands numerous times after the Civil War, going through the Hawkins family, the Medleys and the Ripys – all old distilling families.
As for the name, there once was a family called Rose, who owned the rights to their eponymous brand. In 1886, Colonel Paul Jones bought some assets from the Rose family, which included the brand. By 1902, he and his son had combined with some other distilling and wholesale companies to form Frankfort Distilling, which ended up with medicinal distilling license and cranked out a quarter of all the whiskey made in the United States during Prohibition. Once those stocks were depleted, the distillery was closed, and the a new one was built in Louisville under the Four Roses name with a Beam (Roy) as Master Distiller, with help from his father and a couple of his sons.
Lawrence Jones died in 1941, and the property in Louisville and Frankfort Distilling was sold, first to Schenley, then to Sam Bronfman at Seagrams. Between Prohibition and World War II, Seagrams had embarked on a wave of buying distilling assets and brands in the United States and put together a prodigious portfolio. They closed the Louisville plant and moved production and the brand to their Lawrenceburg, Kentucky property (they also had one in Lawrenceburg, Indiana which leads to a lot of confusion – see below), with Roy Beam's son Charlie as Master Distiller. When Charlie retired in 1982, Ova Haney became Master Distiller for a few years, then in 1998 passed the torch to the current occupant of that post, Jim Rutledge.
Seagrams was sold to Vivendi in 2000 and broken up – I had just gotten into the business and some of my earliest memories are of liquor reps talking about the big shakeup and what brands were moving where with the Seagrams fallout. Kirin bought the brand and expanded distribution in the United States, and Jim still runs the place.
Four Roses makes a lot of variations of their Bourbon, with a standard Yellow Label, Small Batch and Single Barrel always available, then a Limited Release tier that's out annually. Even more importantly, retailers can buy barrels they select, and it's quite the quest for Bourbon lovers to find each of the 10 recipes as a store select, barrel proof bottling.
MGPI
Here's the hidden distillery used by a whole lot of NDP's. MGPI has been around for a while, though under different names. While there's probably been distilling (due to a good source of limestone-filtered water) here since the 1847, tax records show that Rossville Distilling Company was making spirits in Lawrenceburg in 1898. It was bought by Seagrams in 1933, who renamed the plant the Old Quaker Distillery. Seagrams ownership ended with the breakup of the company in 2000, and the property was acquired by Pernod-Ricard, who threatened to shut it down in 2006.
Rather than doing that, they sold it to a holding company that might have been a shell holding of the Angostura Company, who renamed the place Lawrenceburg Distillers Inc. (LDI). When that company went bankrupt in 2010, Midwest Grain Products, Inc. (MGPI) took over ownership.
MGPI produces whiskies from six different mashbills, including a rather famous 95% rye/5% barley malt whiskey that goes into Bulleit Rye, Dickel, Redemption and others.
Willet / Kentucky Bourbon Distillers
Finally, we have another fairly straightforward story. After the Civil War, John David Willett was a Master Distiller and one third owner of the Moore, Willett and Frenke Distillery, in Bardstown, Kentucky. His son, "Lambert" Willett learned the trade and eventually was the superintendent at the Max Seliger Distillery (a.k.a. old Bernheim) in Louisville. Lambert's son Thompson worked with his father at old Bernheim after Prohibition, but in 1936 started the Willett Distilling Company with his brother Johnny.
The distillery survived World War II and the shakeups and buyouts that happened post-war, and made whiskey until the oil crisis of the 1970's, when the declining fortunes of Bourbon prompted them to shift over to ethanol production for a few years before shuttering the plant in the early 1980's.
Thompson's daughter Martha married Even Kulsveen in 1972, and formed Kentucky Bourbon Distillers in 1984. KBD is a NDP, but bought juice from some great distilleries, including Heaven Hill (their neighbors), Bernheim and MGPI. Some of their labels include Johnny Drum, Noah's Mill, Rowan's Creek, Kentucky Vintage, and Old Bardstown.
In 2006, KBD started releasing some great old barrels of (mainly) rye whiskey under the Willett Family Estate label. Some of these were private labels for bars, mainly around the Washington DC area. Many of them are incredibly sought after and go for $2,000 to $3,000 a bottle. A lot of the early ones were old barrels of Bernheim rye whiskey. In 2012, Even's son Drew started up the stills again, and Willett is now producing a two year old Rye whiskey.
Next time: Bourbon: Finding the Good Stuff