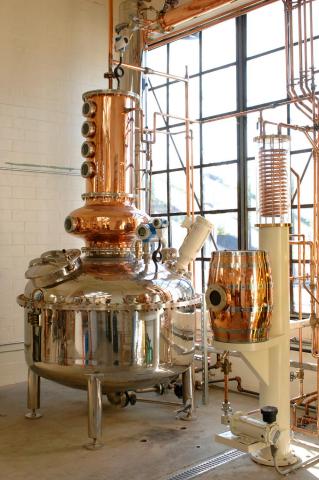 This is the last installment in a series on Bourbon by Zach Pearson. Read them all: Bourbon, Bourbon After the Act, Bourbon: What it is ... and isn't, Making Bourbon, Who Makes My Bourbon, Producer Capsules., Finding the Good Stuff, Tasting the Good Stuff, Neat, Mashbills, Geeky Information and Resources.
As a note, I can't claim credit for any of this. This section is the work of a couple of users on the StraightBourbon.com website, mainly Josh, Oscar and a guy named Taanstafl2 – and see the note just below. But it's too important to leave out even if it's a bit more advanced.
For mashbills, I referred to The Book of Bourbon and Other Fine American Whiskeys by Regan & Regan, 2009, unless otherwise noted. Barton, WT, and Dickel are noted as approximate.
I use the format: Distillery Brand Name (%corn/%rye or wheat/%malted barley). This is a breakdown of "macro" distillers. Wondering what the different char levels look like? This is a good illustration.
SAZERAC
Buffalo Trace, #4 char, Independent Stave – Frankfort, KY
#1, higher corn Buffalo Trace White Dog, Benchmark, Buffalo Trace, Old Charter, Eagle Rare, Col. E.H. Taylor, George T. Stagg
#2, lower corn- Ancient Age*, Elmer T. Lee*, Hancock*, Blanton's*, Rock Hill Farms*, Virginia Gentleman/Bowman Bourbons?
Wheat bourbon: Everything Weller, Van Winkle Special Reserve "Lot B"*, Old Rip Van Winkle*, Pappy Van Winkle 15 y/o*
Rye: Sazerac, Bowman Rye, Van Winkle Family Reserve Rye* (?)
Barton-1792, #3 char, Independent Stave – Bardstown, KY
Barton (75/15/10)- Very Old Barton all proofs +???
1792 (high barley?)- 1792 Ridgemont Reserve, +???
Other Bourbons: Tom Moore BiB, Kentucky Gentleman, Kentucky Tavern, Ten High, Walker's Deluxe, other "cats & dogs".The rest, unknown
Rye 37/53/10? (speculation based on label of High West Double Rye!)- Fleischman's Rye 
Before it was purchased by Sazerac, sold to a lot of NDPs (non distiller producers).
BEAM-SUNTORY
Beam, #4 char, Independent Stave – Clermont & Boston, KY
Beam Mashbill (76/13/10)- all Jim Beam Bourbons, Old Crow, Old Taylor*, Knob Creek, Baker's, Booker's
Old Granddad Mashbill (63/27/10)- OGD, Basil Hayden
Rye- Jim Beam Rye, Old Overholt, Ri¹, Knob Creek Rye
Maker's Mark, #3 char, Independent Stave – Loretto, KY
Maker's Mark (70/16/14)
BROWN-FORMAN
Brown-Forman, #3 char, Brown-Forman Cooperage – Shivley, KY
Old Forester (72/18/10)- Old Forester, Woodford Reserve
Early Times (79/11/10)
Jack Daniels (80/8/12)
Rye (see Heaven Hill below)- Current source of Heaven Hill's Pikeville and Rittenhouse ryes.
Also sells to many NDPs.
HEAVEN HILL
Heaven Hill, #3 char, Independent Stave – Bardstown & Louisville, KY
Rye Bourbon (75/13/12)- Heaven Hill, J.T.S. Brown, T.W. Samuels, Evan Williams, Elijah Craig, Henry McKenna (U.S.), Parker's Heritage (except for 2010), etc. Also probably the source of Luxco's Ezra Brooks line and the current Yellowstone.
Wheat Bourbon- Old Fitzgerald, Parker's Heritage 2010. Also probably the source of Luxco's Rebel Yell and Rebel Reserve.
Wheat Whiskey- Bernheim Original
Rye Whiskey (37/51/12, aprox.)**- Future source of Rittenhouse 80 & BiB, Stephen Foster, current source of Pikesville, Rittenhouse 21 & 23 (?)
Corn Whiskey: Mellow Corn, JW Corn, Georgia Moon, Dixie Dew, Platte Valley*
Also sells to many NDPs.
KIRIN
Four Roses, #3.5 char, Independent Stave – Lawrenceburg, KY
Letter Abbreviations
O-.................The 1st letter=Produced at the Four Roses Distillery in Lawrenceburg, KY.
B/E-.............The 2nd letter=The mashbill.
S-.................The 3rd letter=Straight whiskey Distillation
V/K/O/Q/F-..The 4th letter=The yeast strain
Mashbills
B=60% corn, 35% rye, 5% malted barley
E=75% corn, 20% rye, 5% malted barley
Yeast Culture
V=Delicate Fruity Flavor
K=Slight Spice Character
O=Robust Fruitiness
Q=Floral Essence
F=Light Herbal Essence
The Ten Recipes And Where They Have Been Used
OBSV-Single Barrel & 2008 Mariage & 2010 1B 100th Ann & 2014 SmB LE, 2010 SmB LE (Limited Edition)
OBSK-Small Batch & 2008 1B 120th Ann & 2009 Mariage* 2014 SmB LE  & 2010SmB LE
OBSO-Small Batch
OBSQ-
OBSF- 2014 SmB LE
OESV- 2014 SmB LE
OESK-Small Batch & 2008 Mariage & 2010SmB LE
OESO-Small Batch & 2007 1B Rutledge 40th Ann & 2009 Mariage
OESQ-2009 1B LE
OESF-
*=10yo and 19yo OBSK was used in the 2009 Mariage, so there was a mariage of 3 bourbons in that bottle.
All Ten Combinations- Four Roses (yellow label)
OBSK, OBSO, OESK, OESO- Four Roses Small Batch
OBSV- Four Roses Single Barrel
All the combinations are also available as Single Barrel, Barrel Strength retailer bottlings.

Four Roses also sells whiskey to Diageo that goes into Bulleit (from the high rye OBS* recipes) and I.W. Harper (not available in the U.S.) and produces the overseas version of McKenna.
DIAGEO
George Dickel, char #3, Independent Stave – Tullahoma, TN
Dickel (80/12/8) George Dickel, Cascade Hollow
MGPI  MGPI (formerly LDI), ??? char, Independent Stave? – Lawrenceburg, IN
Original mash bills
Lower Rye Bourbon (75/21/4)
Higher Rye Bourbon (60/36/4) - Smooth Ambler Old Scout*?
Corn Bourbon (99/0/1)
"Light" Whiskey (99/0/1) - Not clear what this is. Unaged?
Corn Whiskey (81/15/4)
95% Rye Whiskey (0/95/5) – Bulleit Rye*, Templeton Rye*?
New mash bills - As of April 2013
Rye Whiskey (0/51/49)
Rye Whiskey (45/51/4) 
95% Wheat Whiskey (0/95/5)
100% Barley Malt Whiskey (0/0/100)
Wheat Bourbon (51/45/4)
Barley Malt Bourbon (51/0/49)
CAMPARI
Wild Turkey, #4 "the heavy char", Independent Stave – Lawrenceburg, KY
Bourbon (75/13/12)- Wild Turkey, Russell's Reserve Bourbon
Rye (37/51/12, aprox.)**- Wild Turkey Rye, Russell's Reserve Rye
WILLETT, Willett Distilling Company/Kentucky Bourbon Distillers (post-2012) – Bardstown, KY
Rye #1 (11/74/15)
Rye #2 (34/51/15)
Bourbon (72/13/15)
Wheated bourbon (65/20/15)
Note: Until 2014, Willett was a NDP, sourcing whiskey from different distillers, including MGPI, Bernheim and Heaven Hill. They now have a two year old rye whiskey for sale that they distill. The best source for figuring out what bottle you have is here , towards the bottom of the page, which details barrel numbers and sources where possible.
Brands on the market with whiskey from closed distilleries:
Medley Rye- Older bottlings of Hirsch, post-PA Michter's(?), Black Maple Hill rye, others?
Mix of Medley Rye and Cream of Kentucky rye (Bernheim distillery)- Van Winkle Family Reserve Rye, some older Willett releases.
Stitzel-Weller bourbon- Pappy Van Winkle (20 & 23 only?), Jefferson's Reserve 17, 18, Vintage 17 etc
Resources
Books
"Bourbon, Straight" (2004) – Chuck Cowdery
"Bourbon – the Evolution of Kentucky Whiskey" (2010) – Sam Cecil
Websites
Next time: Tasting the Good Stuff, Neat