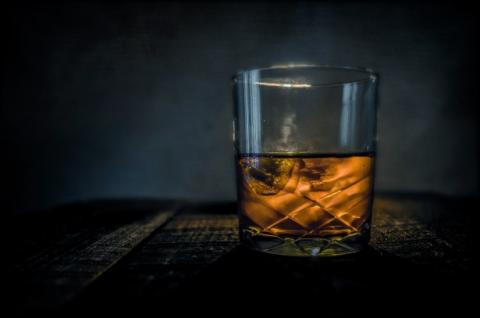 The second in this series, our story resumes with the Bottled in Bond Act of 1897. Read them all: Bourbon, Bourbon After the Act, Bourbon: What it is ... and isn't, Making Bourbon, Who Makes My Bourbon, Producer Capsules., Finding the Good Stuff, Tasting the Good Stuff, Neat, Mashbills, Geeky Information and Resources.
The Act created a new type of whiskey, called Bonded, or Bottled-in-Bond (BIB). Bonded whiskey must be the product of one year's distilling, from a single distillery, aged in a Federally supervised warehouse for no less than four years, and bottled at 100 proof. All Bonded whiskey has a DSP (Distilled Spirits Plant) code on it, the complete list of which can be found online.
The Bottled in Bond Act was brilliant on two levels. On the producer side, people like Colonel E.H. Taylor (of Old Taylor fame, though there's now an EH Taylor bottling) fought for government supervision of their aging stocks because the public would know exactly what they were buying. On the government's side, Treasury Secretary John Carlisle wanted to ensure proper payment of Federal tax, which had been a major source of both revenue and headache since 1791's Whiskey Rebellion.
Consolidation
The early part of the 20th century brought a wave of consolidation to the Bourbon business. During this time, it was much more common for distributors of Bourbon to own the brands outside, leaving distilleries as basically contract producers of raw spirit. Many distilleries were undercapitalized or had difficulties in the pre-FDR boom-bust economy that saw multiple economic crises in the short period of time before World War I.
With the entry into the World War in 1917, distillation stopped nationwide as grains were diverted to feed soldiers. To add injury to insult, National Prohibition went into effect in 1920 and would not be repealed until 1933. It became illegal to distill or sell liquor in the United States, with an exemption for doctors to prescribe "medicinal alcohol" in pint bottles. And they used the exception generously.
Only six distilleries sold medicinal alcohol: Brown-Forman (the only distillery with a family member running it to survive today), Glenmore, A. Ph. Stitzel, Schenley (all three now part of Diageo), Frankfort Distilleries (now Four Roses, owned by Kirin), and American Medicinal Spirits, a consolidator of rural whiskey stocks which became National Distillers and now is part of Beam Global. The rest of the hundreds of distilleries went silent. Most of the equipment was sold for scrap and the buildings fell apart. It wasn't until 1929, when the writing of Repeal was imminent that Medicinal permit holders could resume distillation.
Probably most injurious to the cause of good Bourbon was the loss of institutional memory on the part of Master Distillers. Some members of the Beam family took their Kentucky stills and dragged them to Mexico. Others fled to Canada. Eight short years later World War broke out again. This time stills supported the war effort. Those distilleries that could distill up to 190 proof to make industrial alcohol did so, while those that could only reach 160 proof were required to make all they could and ship it off to rectifiers who could reach the higher levels of purity the war effort required.
Thus a gap of nearly thirty year (1917-1945) disrupted normal distillation.
After the Wars
Bourbon peaked in the post-war years. Stocks of whiskey quickly recovered and Americans were drinking a lot of the stuff. Bourbon settled into a comfortable place as America's spirit. But popularity is fleeting. With the transition toward clear drinks like vodka that began in the 60's and exploded in the 1970's, Bourbon became an old person's drink. Overproduction and slower sales led to gluts of aged whiskey accumulating in rickhouses throughout Kentucky. A lot of whiskey bottled during that time was older than its label might state.
Great Bourbon never truly went away, but the companies that made it surely did. In the modern era, a small handful of distilleries make most of the brands on store shelves. With hundreds of thousands of barrels aging in warehouses scattered throughout Kentucky, niche Bourbon – the ability to pull particularly good barrels and minimally alter them to produce special bottlings became Bourbon's path back to growth and sales. There are lots of these today: Baker's, Basil Hayden, Booker's, George T. Stagg, William Larue Weller and Thomas Handy Sazerac for example. And then there's Pappy van Winkle.
About six years ago, I remember receiving our allotment of Pappy at the Spec's in downtown Houston. It must have been 25 or 30 cases mixed of all the expressions, with the 12 year and Rye (13 year on the label, but closer to 17) going for $50 and the 23 year up at around $175. Today, that 23 year bottling runs about $1500. The prices for aged, high quality Bourbon have soared. I was at a different Houston liquor store a few weekends ago and they had the Buffalo Trace Antique Collection: George T. Stagg, William Larue Weller and Thomas Handy Sazerac for $400. Eventually, this will settle out. We're at a peak of the boom-bust cycle right now, with crazy-high prices appealing to those whose assets exceed their taste.
Comments
A thoughtful read in re bourbon, perhaps my favorite spirit. But lest your story of super premium bourbon à la Pappy scare anyone off, good old BIB Old Grand Dad at its modest price point still exists, and as a bonded bourbon with noticeable spicy rye in its mashbill I declare it the most excellent and succulent bourbon there be. Just don't tell anyone it is that good, or it might be more difficult to buy.
---
---