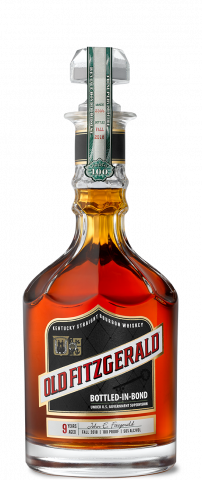 This is the eighth installment in a series on Bourbon by Zach Pearson. Read them all: Bourbon, Bourbon After the Act, Bourbon: What it is ... and isn't, Making Bourbon, Who Makes My Bourbon, Producer Capsules., Finding the Good Stuff, Tasting the Good Stuff, Neat, Mashbills, Geeky Information and Resources.
Old Fitzgerald Bonded Bourbon
(100 proof) DSP #1 – Bernheim, bottled DSP 31 – Heaven Hill, bottled 2013? $16
Golden amber color. Candy floss, honey and golden citrus on the nose, not sharp. Typical cream of wheat/plaster of Paris sweetness as well. Oily and slightly viscous, with alcohol burn fading into maple and corn sweetness at first, then more citrus and dusty-wheaty notes. The empty glass smells like bananas. Incredible value, if you like wheat Bourbons and can find it.
Very Old Fitzgerald 12 Year Bourbon
(90 proof), bottled 2009? $30
Moderate amber in color. Creamy nose, vanilla and marzipan, old furniture finish. The decrease is alcohol is evident, but there's a drag of wood tannins across the front of the palate that takes a moment to turn from furniture shop (e.g. good wood aromatized by hot metal) to the cream of wheat sweetness. There's some ornamentation of green spicy notes that must be from the wood, and this just feels heavier and more contemplative.
Old Weller Antique Bourbon
(107 proof) $26.50
Moderate amber. There's a real custardy note here, lots of warmth from the alcohol mixed with good vanilla, litchi and dried peaches. The palate is warm and thick – it really shows its proof. Lots of dried fruit in the midpalate with a warm covering of honey and creaminess. Definitely some warmth in the back of the throat here, but it's sweet and delicious.
W.L. Weller 12 Year Old Bourbon
(90 proof) $28.50
Freshly opened. Bring golden color. The nose is muddled here – yes there's the custardy note off the Antique, but this is high toned and almost bananas and peanut buttery. This is a bit aggressive on the palate, which is surprising for 90 proof Bourbon, but there's some toasty grain notes and blond tobacco in the midpalate and a surprising wash of green dryness on the finish. As a note, I find that some oxygen is helpful for Bourbon, and I'll probably like this more in a few weeks.
Four Roses Small Batch Bourbon
(90 proof) $39.50
O*SO and O*SK, so four of the ten whiskies they make. Gold. A bit high-toned at first – honey and spearmint, somewhat dusty grain sweetness. On the palate, it's lighter bodied, but still mouth-coating and somewhat oily with a lot of green minty notes, then citrus and a bit of heat on the finish.
Baker's Bourbon 7 Year Old
(107 proof), bottled 1989? $49
Medium amber. This smells like the burnt top of a crème brulee sprinkled with mint and cinnamon, but with some time develops root beer aromas. The palate is fairly rich and oily and is firmly sweet – it tastes like high-charred oak at first, but develops warmth in the back of the throat then a blossoming of vanilla, mint and peaches.
Willett Family Reserve 20 Year Old Bourbon
(117 proof), barrel #4129
Medium caramel brown. This smells like super-dill, some warmth from alcohol and cooked milk. The palate is hot, with the peppery bite of wood and alcohol, but as this settles out in the midpalate…. it's all chocolate, cherries, resinous woods and good salted caramel. Firmly dry on the finish, which is long and intricate.
Elijah Craig 18 Year Old Bourbon
(90 proof) Discontinued, now $300?
This is now discontinued, but I was given a bottle a few years ago as a Christmas present from some good friends. Barrelled in 1991. Slightly hazy gold. There's lots of corn sweetness married to barrel sweetness that's moved away from char and smoke into really good pipe tobacco, plaster of Paris and old leather. There's some light heat and rye spicyness on the palate, but this blooms in the midpalate to pick up the leather and tobacco from the nose in a wash of honeyed sweetness.
Elijah Craig 12 Year Old Barrel Proof Bourbon
(132 proof), 4th release
So this is why you cut spirits that are above 120 proof down with water. The nose smells like alcohol and charred wood. The palate is sweet from both wood, corn and alcohol, and it's warming all the way back into the mouth and throat. But that's about it. Cutting this about 2:1 with water brings things into focus – there's still a lot of freshly cut wood and a brash smoky char, then raisins and vanilla on the finish.
Old Grand Dad Bourbon
(114 proof), bottled 2013? $26
Moderate amber color. Initially, this is all about cherries and good tobacco, with some dusty green-minty dryness, like a wintergreen Life-Saver. With some swirling in the glass, it sweetens up a bit, with dark honey and creamed corn aromas. The palate is warm and sweet, with a heavy, oily texture, but it's dried out by green rye notes and some lingering alcohol burn.