Instructions
Shake all ingredients with ice. Strain into rocks glass (or stemless wine glass) over large ice. Garnish with Grapefruit Twist.
Notes
The combination of rum, mezcal, grapefruit juice and raspberry syrup in a cocktail embodies the Gonzo spirit. Hunter S. Thompson, aside from Wild Turkey 101, was fond of drinking rum and grapefruit. That became the foundation of this drink.
It has a broad and appealing flavor that will satisfy the veteran and the casual drinker alike. You've got to use a solid rum for the backbone of this drink. I am partial the Barbancourt 8-year. It's distilled from cane sugar juice (as opposed to molasses), smooth and flavorful, but use the rum you like best, as long as it's flavorful and good. Grapefruit juice is very biting and difficult for people who are not used to it, but the raspberry syrup (https://www.youtube.com/watch?v=fdtctmdqgA4) is the perfect counterbalance. The coup de grâce is a splash of mezcal. I like using Del Maguey Vida Mezcal, but, again, use what you like, as long as it's smokey and funky.
While this drink isn't harsh on the palette, it packs a punch and won't take you long to go from stone-sober to gonzo. You'll be saying, "mahalo," running with the Hell's Angels and duking it out with Richard Nixon in no time.
Cocktail summary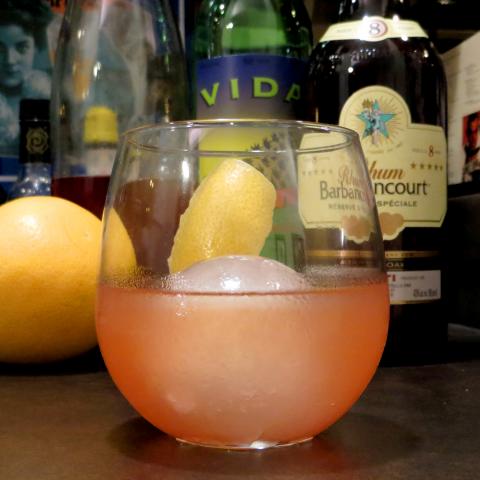 Is the
author's original creation
Rum, Mezcal, Grapefruit juice, Raspberry syrup, Grapefruit peel
PT5M
PT0M
Cocktail
Cocktail
1
craft, alcoholic