1

1⁄2

oz
Navy strength rum (preferably a Jamaican-heavy blend)
1⁄4

t
Lime zest (for stirring only)
Instructions
Stir the booze and the lime zest with ice in a mixing glass. Double strain into a chilled rocks glass. Serve neat.
Notes
This is an original drink inspired by The Shining. The interpretation of the drink could hardly be more literal. It's rum-based and it's red. I created this drink by working backward from the name.
At the time I was pretty smitten with the Palmetto, so I knew I wanted to make a stirred, alcohol-forward rum drink. But there aren't a whole lot of stirred rum drinks.
I knew I wanted the base to be a big, fruity, full-flavored rum that was complimented with red-colored liqueurs, and I ended up working toward a cross between a Remember the Maine and a Negroni. But I also wanted to make the drink something that could be served neat.
Around the time I started playing around with this drink, I had just finished a deep dive into the world of the Prohibition-era Cuban bartenders. One of their techniques was to throw a lime peel into the mixing glass or shaker, which was done notably in the Cuban Old Fashioned (https://youtu.be/HgBSaO_8ffg). That would brighten the drink up with a hit citrus without making the drink tart or diluted via the lime juice. So, I tossed the lime zest in the mixing glass and it worked wonders.
For the Cherry Liqueur, the most famous choice is Cherry Heering, but there are others out there. In this case, I'm using Combier Rouge. Whichever one you use, Cherry Liqueur is a bottle you should have lying around in case you want to make a Blood & Sand (https://youtu.be/a8jBZzBKAfc) at a moments notice.
The drink is semi-sweet and approachable but doesn't totally shy away from its bitterness. It's funky and citrusy and tempting. You might want to come play with Redrum for ever and ever…and ever. Enjoy!
History
For the lime zest, the shavings from a microplane grater work best, but you can also use a lime peel with the pith filleted off the back. Just express it into the mixing glass, drop in the peel and stir. In both cases you do not want any of the lime zest in the final drink, only the flavor.
Originally this drink was made with a Navy Strength Jamaican Rum (Smith & Cross). It's still fine that way, but more recently, I've been making the drink with a Navy Strength, Jamaican-heavy blend, Hamilton Navy Strength or another blend that is heavy on the Jamaican Rum.
I dialed it down and made it with Plantation OFTD and I dialed it up and made it with Denizen Merchant's Reserve. All work really well in this one. But feel free to use your favorite dark rum.
Adjust measurements as follows:
1.5 oz for Hamilton Navy Strength (114 Proof)
2 oz for Denizen Merchant's Reserve (86 Proof)
1 oz for Plantation OFTD (138 Proof)
Cocktail summary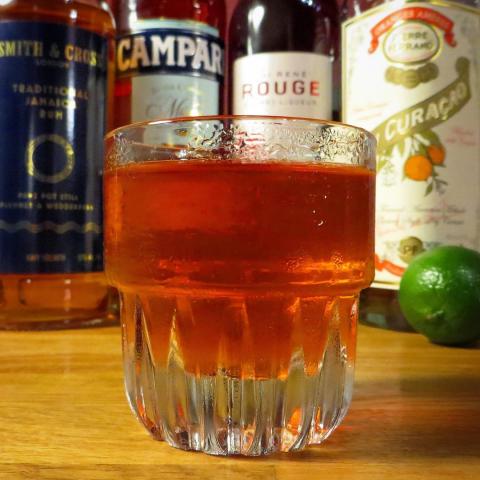 Created by
Distinguished Spirits
Is the
author's original creation
Navy strength rum, Campari, Cherry Liqueur, Orange liqueur, Lime zest
PT5M
PT0M
Cocktail
Cocktail
1
craft, alcoholic