1

1⁄2

oz
Rye (use bonded 100 proof like Rittenhouse, Knob Creek 101, etc.)
3⁄4

oz
Herbal liqueur (Besamim Liqueur)
8
Cloves (Use 3 in preparation and 4-5 for garnish)
Instructions
Stir the rye, Besamim, and 3 cloves with ice for 30 seconds. Strain into a rocks glass with one large cube. Place 4 drops of black pepper tincture on the ice and give it a stir. I cut the orange and ginger into heart shapes and then used the cloves to anchor the ginger on top of the orange.
Notes
For Black Pepper Tincture: Place 2oz of peppercorns in 6oz of grain alcohol and let sit for 48 hours shaking occasionally. Pour mixture through a sieve, reserve liquid.
History
Created by Reed Sandridge of Washington, DC. Was inspired by the Besamim liqueur that Sukkah Hill makes - Besamim means spice mix in Hebrew and is true to its name. A perfect drink for Hanukkah or any winter evening.
Cocktail summary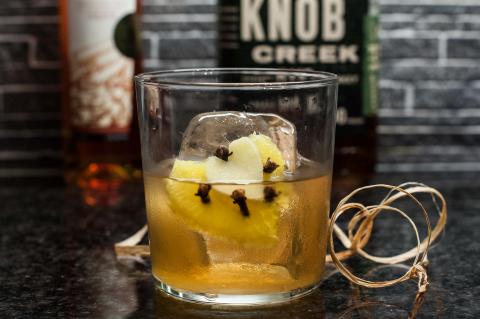 Created by
Reed Sandridge, IG @cocktailcraftingofficial, Washington, DC
Is the
author's original creation
Reference
IG @cocktailcraftingofficial
Rye, Herbal liqueur, Pepper tincture, Orange, Ginger, Cloves
PT5M
PT0M
Cocktail
Cocktail
1
craft, alcoholic