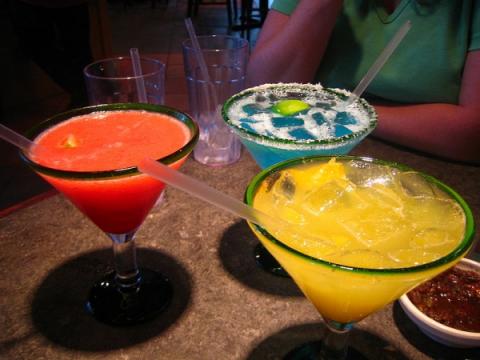 Americans drink a lot of Margaritas. While the Margarita makes up eighteen percent of the mixed drinks ordered in the United States, tequila represents only six percent of the domestic spirits market. Unfortunately, we drink a lot of bad Margaritas too. Neon colored, super-sweet, artificially flavored, poorly made, cheap ingredient, frozen-slushy Margaritas surely account for most of those eighteen percent.
Perhaps one reason that Americans drink a lot of bad Margaritas is that we seem to have no idea of its origin. There are theories (among others) that Dallas socialites, Peggy Lee, Mexican (or Irish, or Texan) bartenders, German ambassador's daughters or Ziegfeld Follies dancers all have a hand in the drink.
Shake, strain, serve up in sugar rimmed glass. Garnish with orange peel.
Trying to sieve fact from fiction here is difficult. Charming stories aside, there are two camps: People who think the Margarita is in the Sidecar family and those who think it's effectively a Tequila Daisy. 
In the 1936 Café Royal Cocktail Book, there is an entry for a drink called the Picador, which reads "¼  fresh lime or lemon juice, ¼ Cointreau, and ½ tequila" with orders to shake, but not strain. Keep in mind that this is an English book that was highly curated by W. J. Tarling—pared down from 4,000 recipes. At heart, this is a Savoy Sidecar, keeping the 2:1:1 ratio, but using tequila instead of brandy. At this point, the Sidecar was only about fifteen years old, and had already mutated into the White Lady.
Dry shake, add ice, shake, strain, straight up, cocktail glass.
Those in the Daisy camp point to a 1936 story unearthed by David Wondrich that tells the story of an Iowa newspaper owner who took his wife to southern California on vacation with a quick stop to Tijuana. Upon arrival, their taxi driver took them to a bar whose Irish owner served them a Tequila Daisy, variations of which date back to "Professor" Jerry Thomas, who listed four of them in his 1862 "How to Mix Drinks, or the Bon Vivant's Companion." As a family, a Daisy is a spirit, sweetened with gum syrup, Maraschino, orgeat, or Curaçao, acidified with a little lemon juice, then shaken and topped with sparkling water. By the time this article came out, grenadine had replaced other sweeteners in the Daisy.
It certainly seems much simpler that the Margarita is a variant of the Sidecar, where there's only a simple spirit substitution instead of losing the Daisy's sparkling water completely and changing grenadine for Cointreau.
Let's look at a very basic Margarita, discuss how it works, and then look for places to make changes to make it taste better. A basic Margarita is 2 ounces of tequila, 1 ounce of lime juice and 1 ounce of Cointreau, shaken and strained. Cointreau and lime juice are easy, but which tequila? At the time of its invention (whichever story you believe),  years of war in Jalisco and governmental instability had reduced tequila production to a bare minimum, so much so that sugar cane was used to supplement agave as a source of fermentable sugars. Frank Meier's 1936 "The Artistry of Mixing Drinks" calls tequila (along with Cana, Caxaca, Guarapo and Paraty) a sugarcane distillate. These tequilas could not have been aged in wood for very long. And if you think the lineage of the Margarita includes the White Lady, there's not a big step from unaged gin to minimally aged tequila.
Shaking together Blanco tequila, lime juice and Cointreau leads to a Margarita that is earthy, where the bitterness of the lime juice and the agave plant taste of high quality tequila play nicely together in a way they don't with the more subtle lemon juice. Likewise, the neutral orange flavor and lack of color in Cointreau are more appropriate in this drink than brandy based, darker colored Grand Marnier—if the goal of a Margarita is to emphasize the interplay of earth and lime on a backdrop of orange, throwing more strongly flavored spirits, neon-colored liqueurs or fruit into this obscures what makes this drink great.
Shake, strain, straight-up, cocktail glass, optionally half-rimmed with salt.
Increasing the earthiness of the tequila through brand selection—obviously, unaged 100% blue agave tequila from great producers like Siete Leguas or Tequila Ocho will have more agave taste than mixtos or high volume brands. Removing some of the Cointreau for more tequila is also a good way to go, but only about ¼ ounce more, or the drink will be unbalanced. A bare pinch of salt, either on the rim of the glass or in the drink can lift earthy flavors out of the drink as well. Finally, lime oil is more intensely aromatic than lime juice, and by either shaking half a spent lime with the other ingredients or expressing some lime oil over the top of the finished cocktail can emphasize the earth-lime synergy.
The Margarita I made with 2¼ oz Siete Leguas Blanco, 1 oz lime juice, and ¾ oz Cointreau (9:4:3) stirred with the lime shell and strained into a half salt-rimmed coupe was delicious. The Cointreau fades into the background, simply providing a place for the green-bitter lime and the earthy-salty tequila to meet each other, and each nip at the salted rim served to pop the earthy-saline flavor out of the drink.
Regardless of its history and how unpleasant the Margarita can be, it's a worthy drink. By stripping it back to its roots and tinkering with those three simple ingredients, the Margarita can take its place among the great drinks of the 20th century.
by Zachary Pearson, editor