1

1⁄2

oz
Tequila,

Jose Cuervo Tradicional Silver
Instructions
– Gently muddle the red bell-pepper and raspberries together into the mixing glass.
– Add barspoon of agave syrup to dissolve with lemon juice then fill up with the remain ingredients.
– Add ice and shake it!
– Strain into a rocks glass filled with crushed ice.
– Floating the mescal on top and garnish with lemon zest, stick of berries and sprig of mints; then sprinkle pinch of black pepper.
– Enjoy the battle!
Notes
It tastes "sophisticated and complex", just like a beautiful summer in the mouthfeel.
History
"Cinco de Mayo" was inspired by the namesake battle of the world-renowned celebration - the Mexican army's 1862 victory over France. The drink shows off a bloody war that Tequila is base for their nation,Wenneker Strawberry is the love of Mexican and raspberry gives the freshness for color of the blood with the red bell-pepper to give a bit of spicy when France failed. The lemon juice is to give the right balance of a losing battle and agave syrup is just to compliment the flavor of sweetness when they won. The Swizzle Masters Competition decided to make the drinks live at the Vinexpo in Bordeaux so Dubonnet Rouge is to add extra flavors and more complex for the drink. Then the Mezcal and a pinch black of pepper can be added for the smokiness of the war as well as the people who dead in the battle.
Cocktail summary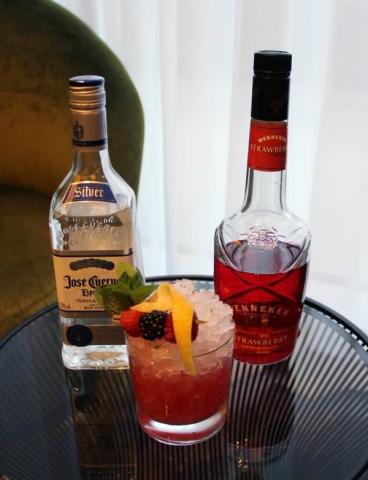 Created by
Trinh Quan Huy-Philip, Huydini Philosophy - VIETNAM
Is the
author's original creation
Tequila, Crème de Fraise, Aromatized wine, Mezcal, Raspberry, Lemon juice, Agave syrup, Red Bell Pepper
PT5M
PT0M
Cocktail
Cocktail
1
craft, alcoholic