Instructions
Gently stir over ice and strain into a rocks glass.
Garnish with an orange zest and flaming sprig of rosemary just before served. Enjoy!
Notes
Pussanga is a bittersweet liqueur made with pomegranate, ginger, chiles and pussanga roots.
It tastes authentic and more complexity, just like a perfect lady. The aroma of rosemary and orange are just fantastic.
History
This drink is all about to express my childhood, born in the musicians family and growing up everyday with part of the melody. Even every tone is sometimes so deep, but it really contributes to the rhythms of my life and gives my family the more strength to come over any difficulties in our life. That makes the word "Impossible" become "I'm Possible"!
Within this reason so I try to figure out once again by using my own melody from my childhood to create a new feat in this lifetime. Cheers,
Cocktail summary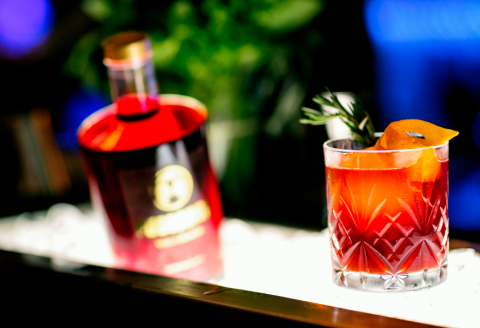 Created by
Trinh Quan Huy-Philip, Huydini Philosophy - VIETNAM
Is the
author's original creation
Sweet vermouth, Amaro, Jägermeister, Peychaud's Bitters, Pussanga
PT5M
PT0M
Cocktail
Cocktail
1
craft, alcoholic