8 lf
Mint (8 Leafs for muddling)
2 oz
Champagne (Prosecco & Cava also acceptable to taste, brand isn't important but ideally drier the better)
Instructions
Muddle mint leaves in the bottom of a shaker tin with all ingredients, except champagne. Wet shake for 15 sec. Pour the champagne into a tall collins glass half full of crushed ice from a lewis bag, then double strain your tin on top. Pack the rest of the glass with more crushed ice, garnish with mint and stirring straw.
Notes
Cocktail could also be made with reposado, dark or añejo/aged Tequila and would then be a Gold 75.
Any high quality silver/blanco tequila will suffice for e.g Patrón.
Prosecco & Cava also acceptable to taste, brand isn't important but ideally the drier the better.
Could also add a couple drops of saline (Salt water) to make the flavour profile more complex and bring out the sweet and sour notes.
Cocktail summary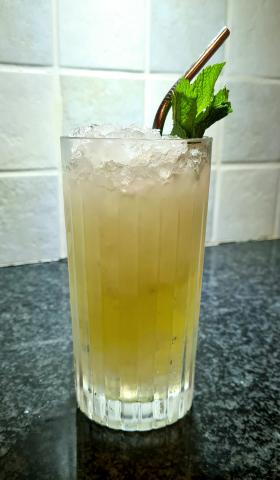 Created by
Piers Knight, Reading, Berkshire, UK
Is the
author's original creation
Champagne, Tequila, Agave syrup, Lime juice, Mint
PT5M
PT0M
Cocktail
Cocktail
1
craft, alcoholic