1 oz
Cappelletti Aperitivo
Instructions
Stir with ice and strain into a small, chilled tumbler glass. Garnish with a twist of lemon peel.
Notes
The gin used was originally specified to be "Captain's Gin," apparently of French origin and 40% ABV (later 37.5%). As originally written, it features a small amount of La Campana orange curaçao mixed with equal parts gin, sweet vermouth, and the now-defunct "Aperitivo Rossi," a wine-based, 18% ABV bitter aperitif, with the strong orange flavor and aroma characteristic of classic Italian aperitivos. Cappelletti is used here, but an Americano Rosso/Rosa (e.g. Cocchi) could work as well. Along with the Cappelletti, I used Plymouth gin, Cocchi di Torino vermouth, and Pierre Ferrand Dry Curaçao. The result is like a milder but incredibly flavorful and delicious riff on a Negroni, with bright citrus flavors, subtle bitterness, and a noticeable "wininess" from the wine-based bitters on top of the vermouth.
History
The "Studebaker" was published in 1940 by Spanish bartender Pedro Talavera in his drinks manual "Los Secretos del Cocktail" (The Secrets of the Cocktail). It appeared in a section toward the end of the book called "Sportsmen's," which consisted of a number of cocktails named after various auto manufacturers and a few ocean liners of the time. There appear to be no thematic links between the ingredients and the Studebaker company or its cars, though Studebakers were sold in Spain and there is even a large Studebaker mural advertisement dating to the 1920s still extant in Seville. It does not appear that the "Studebaker" cocktail was ever popular in Spain or elsewhere, and its only known mention is in Talavera's book.
Cocktail summary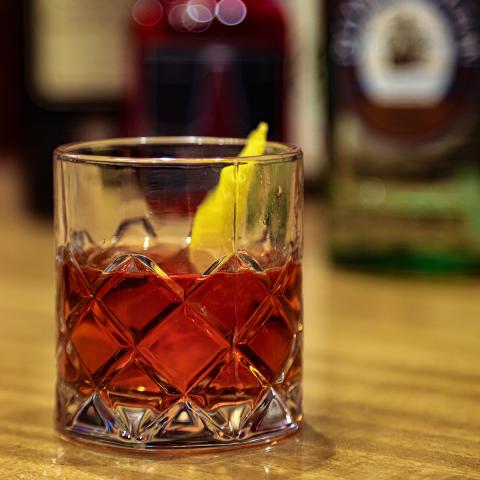 Created by
Pedro Talavera, Madrid, Spain
Gin, Sweet vermouth, Cappelletti Aperitivo, Orange Curaçao, Lemon peel
PT5M
PT0M
Cocktail
Cocktail
1
craft, alcoholic