Instructions
Stir with ice in a cocktail shaker and strain into a chilled coupe glass.
History
William emigrated from Hamburg, in 1869, to Chicago. Surviving the Great Chicago Fire, William found himself, in 1873, heading a team of 16-bartenders at the Tivoli Gardens, one of the city's growing number of "concert saloons".
William moved to New York, in 1884, where he presided over the Bridge Saloon. (This may have been its name or simply a geographic moniker, as it was at the Manhattan end of the Brooklyn Bridge and was pulled down a few years later to make way for bridge approaches.)
Schmidt took his first holiday since his arrival in the US, in 1889, to visit his elderly parents in Hamburg. Upon his return, he went independent, taking on a business partner and opening a place on Broadway near Park Row. When his partner died shortly after, William sold his establishment and stayed on as bartender through several years and several owners. Eventually the establishment was moved to 58 Dey Street, —a site that is precisely at the heart of Ground Zero today. Schmidt died in 1905.
Cocktail summary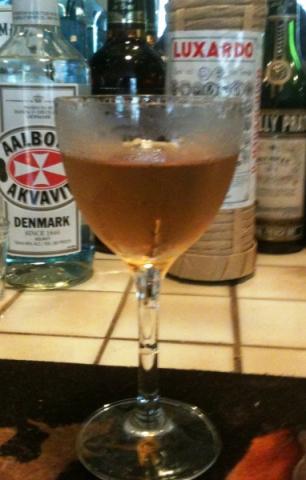 Created by
by William Schmidt, c 1891.
Reference
Schmidt, William, "The Flowing Bowl, What and When to Drink", Charles L. Webster & Co., New York, 1892
Rye, Aquavit, Maraschino Liqueur, Absinthe, Jamaican rum, Bitters, Gomme syrup
PT5M
PT0M
Cocktail
Cocktail
1
craft, alcoholic