5 lf
Mint (1 for garnish)
Instructions
In a Collins Glass: muddle syrup, mint, and grapes. Add crushed ice and bourbon. Top with soda if needed. STIR, STIR, STIR UNTILL GLASS IS FROSTED! Garnish with a bourbon soaked grape wrapped in a pressed mint leaf. Add a lemon twist.
Notes
I don't like cooking my simple syrup. Adding super refined sugar to cold water and letting it dissolve naturally works fine and actually produces a lighter, cleaner final 1:1 product.
*Soak the grape and mint garnishes in bourbon and insist they be eaten when the drink is done.
Cocktail summary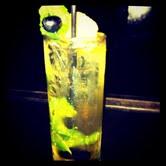 Created by
Alexander, Little Cave, Los Angeles, CA, USA
Bourbon, Grapes, Simple syrup, Mint, Lemon peel
PT5M
PT0M
Cocktail
Cocktail
1
craft, alcoholic