1

1⁄2

oz
Gin,

St. George Terroir
Instructions
Mix the first six ingredients in a pint glass. Add ice. Stir 30 seconds & strain into a chilled rocks glass. Add a large ice cube. Finish with a grapefruit twist.
Alternatively, strain into a chilled coupe (pictured).
Notes
Initial citrus blast, followed by the piney, aromatic flavors from the Terroir, moving into a light bitterness from the Cynar & Meyer lemon, then finishing with the honey. Complex but smooth.
Note that you could substitute Vya Whisper Dry for the Dolin, or orange bitters for the grapefruit.
History
First served on 2/28/2015 at the birthday and retirement party of a friend's mother in the eastern shadow of Mt. Diablo.
Cocktail summary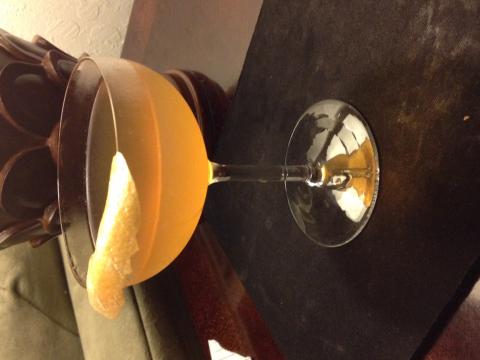 Created by
Q Williams, Walnut Creek, CA (USA)
Is the
author's original creation
Gin, Bianco Vermouth, Cynar, Grapefruit bitters, Meyer lemon juice, Honey syrup, Grapefruit peel
PT5M
PT0M
Cocktail
Cocktail
1
craft, alcoholic