3⁄4

oz
PInk grapefruit juice
Instructions
Add all ingredients. Shake. Double Strain. Serve in a coupe. Garnish with fresh grated nutmeg & one basil leaf.
Notes
Picture shows Cardamom bitters but I switched to Angostura.
History
The starting point was Hemingway's Daiquiri and then it morphed into this tasty variation. Named after the house in Cuba were Hemingway lived and which is now a museum.
Cocktail summary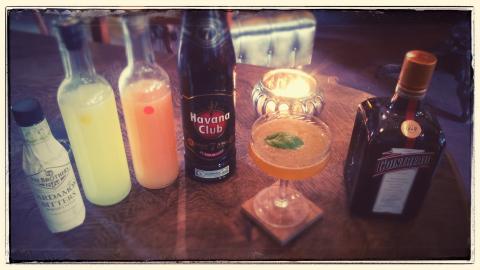 Created by
Thierry Vandevelde, La 25ème Heure, Soignies, Belgium
Is the
author's original creation
Rum, Triple sec, Bitters, PInk grapefruit juice, Lemon juice, Basil, Rich simple syrup 2:1
PT5M
PT0M
Cocktail
Cocktail
1
craft, alcoholic