2 oz
Light rum,

Probitas (Originally I used light Equiano rum, but use what you like.)
1 sli
Lime (dehydrated, as garnish)
Instructions
Shake with ice and crushed ice and pour into a lowball. Top with more ice.
Garnish:Pineapple leaf (from freezer), basil leaves and dehydrated lime
Notes
This is a Cordial from Trash Tiki
Green Pineapple Cordial:
2 cups white or confectioners' sugar
Rinds from one pineapple
5-6 basil stems with leaves attached
1/2 cup water
Blend sugar and water until almost dissolved. Add basil stems and pineapple and blend until sugar is fully dissolved. Strain through a fine strainer. Bottle and refrigerate for up to 5 days.
History
I created this for the Equiano cocktail competition. My goal was to make a sustainable cocktail that was a mix between a Piña Colada and a Mai Tai.
Cocktail summary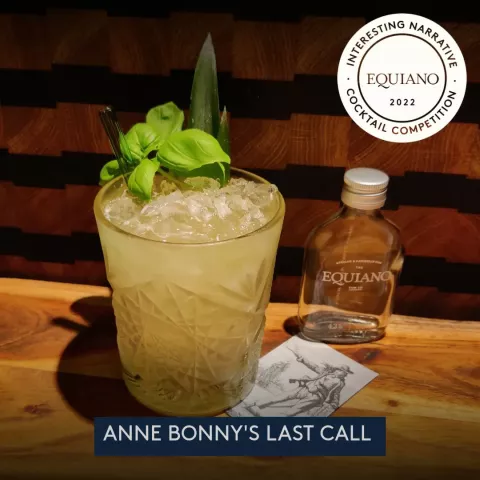 Is the
author's original creation
Light rum, Orange liqueur, Coconut liqueur, Lime juice, Pineapple syrup, Pineapple, Basil, Lime
PT5M
PT0M
Cocktail
Cocktail
1
craft, alcoholic