Instructions
Shake & strain into chilled cocktail glass. Express twist, rim glass, and drop in.
Notes
Each ingredient plays its part, from nose to sip to swallow to finish. Layer after layer, with a sum greater than its parts.
Avoid Monin Orgeat on this one; it imparts an odd "chocolatey" flavor.
History
Formerly posted here as "The [Redacted] Cocktail." Among friends, this drink has a "bawdier" name (as seen at the Reference link), but I've finally settled on a name which better suits its flavor profile.
Cocktail summary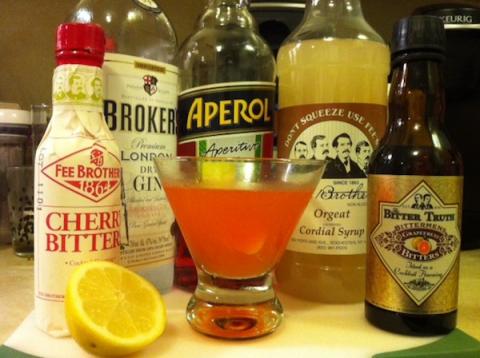 Created by
Christopher Bevins
Is the
author's original creation
Gin, Aperol, Grapefruit bitters, Cherry Bitters, Lemon juice, Orgeat, Lemon peel
PT5M
PT0M
Cocktail
Cocktail
1
craft, alcoholic