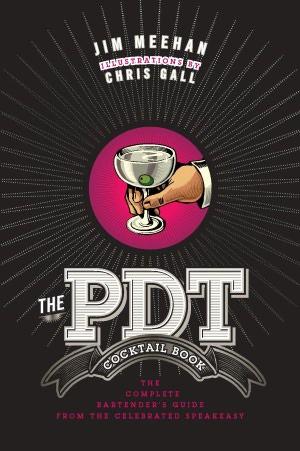 As cocktail historian David Wondrich alludes to in his introduction to the book, Jim Meehan's The PDT Cocktail Book is aiming to be the Savoy Cocktail Book of today. This is no small task: The Savoy Cocktail Book, written by exiled American Harry Craddock while tending bar in London during Prohibition, is a unique look at the state of the cocktail circa 1930 and arguably the most famous cocktail book in history. Apart from mimicking the title, Meehan similarly includes vibrant illustrations* and devotes the bulk of the book to a massive list of recipes. What's really amazing about this ambitious goal is that he largely succeeds: The PDT Cocktail Book is the definitive guide to the modern cocktail revival, and an essential addition to every home bartender's collection.
Like Craddock, Meehan's focus is on the drinks produced at one bar, in his case PDT, a "speakeasy"-style cocktail den in New York's East Village that Meehan opened in 2007 and still runs. The recipes here consist of every drink that has ever been on the constantly rotating, seasonal menu. There are over 300 recipes to choose from, and while this does not put it in the same class as true encyclopedias like Diffords, Meehan's strategy delivers quality over quantity. Most of the vintage classics that have formed the backbone of the modern cocktail scene are here, often with cleverly reworked ratios for the modern palate (for example, Meehan's Corpse Reviver #2 replaces a dash of absinthe with a rinse). But the majority of the recipes are originals from a wide range of both permanent and guest bartenders, including personal favorites like the tequila-based Eclipse and PDT's most famous cocktail, the Benton's Old-Fashioned, made with bacon-fat-infused bourbon. The collection represents five years at the heart of the cocktail revival - it's a contemporary manual that will become tomorrow's historical document.
Of course, creating an authentic guide to every drink made at a high-end cocktail bar is inevitably going to cause some frustration for the casual reader. A handful of drinks are very difficult to make as written, like the Red-headed Saint, which requires the obscure A.B. Smeby Verbena bitters, or the Staggerac, which is only an option for the lucky few who manage to land a bottle of George T. Stagg bourbon. Even more drinks require various infusions and syrups that are probably more trouble than they are worth for the average reader (though, trust me, it is quite fun to come up with things to do with bacon bourbon). However, the majority of the drinks can be made with a standard bar repertoire, and a smaller but still significant number of drinks feature just the core components of a bar (e.g. whiskey, gin, tequila, vermouth, bitters, absinthe, Cointreau, etc.). This means excellent drinks like the Berlioni (Gin, Cynar, and dry vermouth) and the Newark (Apple brandy, sweet vermouth, maraschino, and Fernet) can be made within moments of cracking the book open.
Despite the overall impressive nature of the book, there are some editorial choices that are frustrating. Drinks in the index are listed only by base spirit, so if you buy a bottle of apricot liqueur and want to know what you can make with it, you are out of luck unless you want to go skimming through the book. Garnishes are only listed in the fine print instructions, which means some of the more obscure (but essential) choices could be missed on initial inspection. Then there's the decision to include the brand of choice for every ingredient in every drink. While this is ideal and essential for the professional and advanced home mixer, it could be alienating to a reader without a firm knowledge base who might not know, for example, that it's okay to use a different blanco tequila, but subbing out Hendrick's for another gin is going to give you a very different result. But these minor quibbles are dwarfed by the positives.
There were a number of cocktail books which ushered in this new golden era, most notably Vintage Spirits and Forgotten Cocktails and The Joy of Mixology. These are both must-own books for any serious cocktail fan, but a lot has changed in the years since these books were written. The PDT Cocktail Book is the first book that not only acknowledges the massive evolution of the last few years, but actually delivers recipes in a wide range of styles that confirm this new way. It's these recipes that make The PDT Cocktail Book not just ideal for making drinks, but essential for understanding this moment in cocktails.
Editor's note: Highly recommended.
* Beautiful illustrations by Chris Gall evoke an art deco or graphic novel aesthetic.