1 t
Honey (raw unfiltered)
Instructions
Heat all liquids, cinnamon stick and cloves in small pot, simmer on low heat for 5 mins and stir to dissolve maple syrup, pour in mug hot, float butter pat and dust with lemon zest, cinnamon, nutmeg and cayenne on top.
Notes
My friend caught a very contagious virus and needed something hot to ease the symptoms. I looked at various rum toddies and used this one as a starting point: https://www.cottercrunch.com/spiced-pineapple-rum-hot-toddy/
*this drink is NOT a cure for anything, despite the name. However, it can help relieve a lot of symptoms, although alcohol is not necessarily a good choice when seriously ill. Check with your doctor before consuming any alcoholic beverages.
Cocktail summary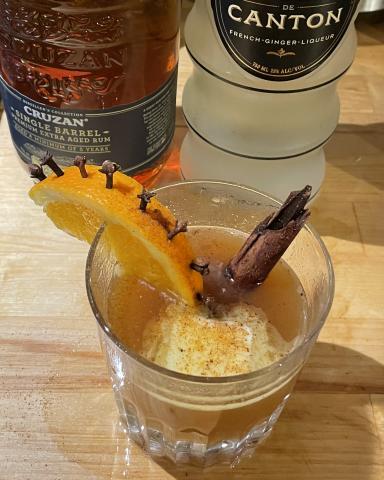 Rum, Virgin Islands Rum, Ginger liqueur, Bitters, Water, Pineapple juice, Orange juice, Butter, Lemon juice, Honey, Grade B maple syrup, Lemon zest, Vanilla extract, Nutmeg, Cinnamon, Cayenne pepper, Cloves, Cinnamon stick
PT5M
PT0M
Cocktail
Cocktail
1
craft, alcoholic