1 bsp
Pineapple Gum Syrup
1
Maraschino cherry, Luxardo (as garnish)
Instructions
Strain lemon and orange juice. Shake everything and strain into a chilled cocktail glass. Twist and discard. Garnish.
Notes
A citrusy, fruity riff on a Manhattan, the Interborough combines elements from each of the classic New York City "borough" cocktails — rye whiskey (Manhattan, Brooklyn), sweet vermouth (Manhattan, Bronx, Queens), Maraschino (Brooklyn), citrus (Bronx), pineapple (Queens, Staten Island Ferry), and orange bitters or amaro (Brooklyn, some Bronx recipes).
History
Invented by typeface designer Greg Shutters to mark the release of "LaFarge," a font inspired by the early-20th century mosaic signage in the New York City subway. "Interborough" is named partially for the Interborough Rapid Transit Company (1904-1940) — a privately-held precursor to the modern New York City Transit Authority — and partially because of its inclusion of elements from all five classic New York City "borough" cocktails.
Cocktail summary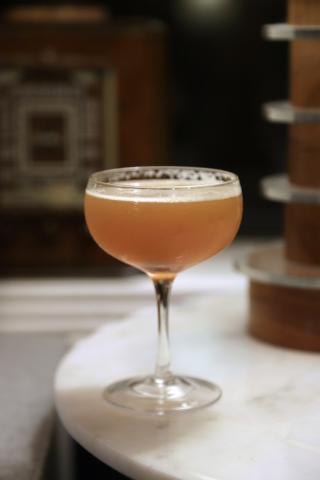 Is the
author's original creation
Rye, Sweet vermouth, Maraschino Liqueur, Orange bitters, Pineapple Gum Syrup, Lemon juice, Orange juice, Orange peel, Maraschino cherry
PT5M
PT0M
Cocktail
Cocktail
1
craft, alcoholic