3⁄4

oz
Passion fruit syrup
Instructions
Put everything - Except Lemon Hart 151 - in a blender. Blend at high speed for 5 seconds. Pour unstrained into a tall glass. Float Lemon Hart on top of drink. Garnish with a cocktail cherry speared to pineapple and orange slices.
Notes
My favorite incarnation contains Real McCoy 3 yr (instead of light puerto rican), Pusser's Gunpowder Proof, Coruba Dark and Lemon Hart 151 for the Rums. I also replace the passionfruit syrup with a shy 1/2 oz of Goya passionfruit pulp and up the Honey mix to a tall 1 oz. (By the way, the honey "syrup" is just a 50/50 mixture of honey dissolved in water.)
History
As served at the Tiki-Ti, Los Angeles, in 1961 - the year master mixologist Ray Buhen opened the Ti, after 3 decades in the employ of L.A.'s most famous Polynesian palaces, including Don the Beachcombers (Ray was there from the beginning in 1934), the Luau, the Seven Seas, and the China Trader. These places all vanished long ago, and Ray himself passed away in 1999, but the Ti is still thriving under the ownership of Ray's son and grandson, both named Mike.
Cocktail summary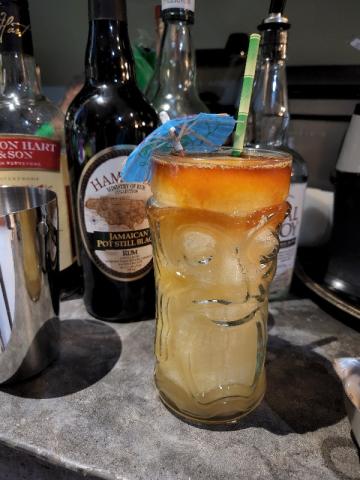 Reference
Beachbum Berry Remixed, A Gallery of Tiki Drinks
Light rum, Gold rum, Dark rum, Demerara Rum, Falernum, Crushed ice, Lime juice, Orange juice, Pineapple juice, Passion fruit syrup, Honey syrup, Cherry, Pineapple, Orange
PT5M
PT0M
Cocktail
Cocktail
1
craft, alcoholic