1 T
Coffee syrup (see note)
3
Marshmallow (espresso dusted, as garnish)
Instructions
Shake all but Cherry Bark Vanilla Bitters and club, strain into a tiki glass with crushed ice. Top with bitters, add a splash of club, and garnish with dusted marshmallows on a bamboo skewer (toast marshmallows before serving for best effect).
Notes
We made a cortadito syrup--12 oz turbinado sugar to 6 shots of espresso
History
Part of Big Watt's "Periscope" tiki menu at Eat Street Social in Minneapolis, MN. Modeled after a "coffee cocktail" at Five Watt Coffee--it combines the elements of a vanilla and marshmallow forward hot coffee beverage with a heavy nod to the tiki-traditional.
Cocktail summary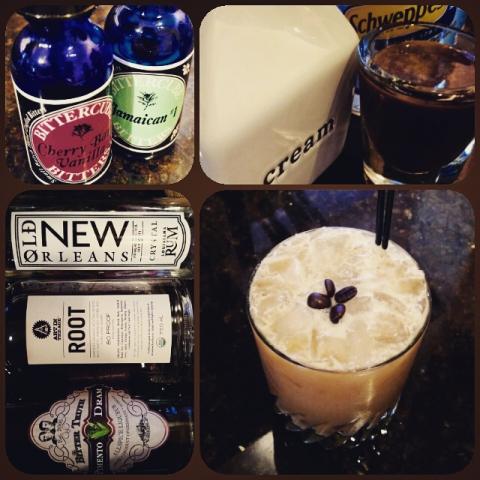 Created by
Jason Westplate & Lee Carter
Is the
author's original creation
Light rum, Root liqueur, Demerara Rum, Allspice Dram, Bitters, Half-and-half, Coffee syrup, Club soda, Marshmallow
PT5M
PT0M
Cocktail
Cocktail
1
craft, alcoholic