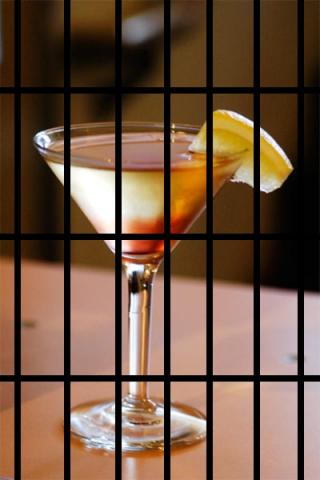 Perhaps one of the most difficult skills an aspiring cocktail maker can grasp is inspiration. Inspiration is the culmination of knowledge, skill and passion, and it only comes about through an understanding of ingredients, technique, and cocktail theory. There's nothing more exciting and terrifying than standing in front of a bar with an empty glass and combining ingredients in a new and innovative way to make a satisfying cocktail. Therefore, you should be encouraged to steal from those that came before. Please note I'm not referring to outright theft of drinks, but using what is available to create new, interesting cocktails.
The difficulty lies in that innovation is the synthesis of knowledge. Knowledge and the ability to understand its component parts must be the basis of innovation, which means that a well stocked bar comes first. Obviously, if ingredients aren't available, you're not going to be able to make a cocktail with them. In addition to a well stocked bar, familiarity with each bottle is immensely helpful. Knowing that Calvados tastes like apples, spirit and woody notes and a hidden dimension of 'apple tree' or that Cynar is made from artichokes and yet tastes like honey and tobacco and a slight sulfury bitterness makes pairing ingredients that might have disparate primary flavors but complimentary secondary flavors easy. The understanding that Campari plus lemon equals pink grapefruit drives the Jasmine. This is not easily formalized. Writing tasting notes on cocktail ingredients can be useful at first, but at some point they become a crutch and inhibit beauty and the sudden strike of inspiration.
In addition to knowledge of ingredients, knowledge of cocktails is of paramount importance. You should buy cocktail books and read them, even if just to internalize ratios and how certain ingredients pair together. Knowing that pineapple juice pairs well with green Chartreuse, Benedictine or Cynar opens up new possibilities to be creative. Likewise, understanding that there is a direct link from the Old Fashioned to the Margarita (through the Brandy Crusta and Sidecar) gives a solid framework with which to build flavors and aromas.
Inspiration should not be limited to bars and cocktail books, though. Everything is fair game, from the foams and essences of molecular gastronomy to classical food and wine pairings and the sentiment that "if it grows together, it goes together" --  think about turning a Bloody Mary into a south of France-inspired cocktail with the flavors of bouillabaisse using a dash of Pastis and some fish sauce to provide briny/marine elements. Again, nothing is off limits if you can figure out a way to get flavors into a glass.
I happen to love the pairing of ginger snaps with an older Gouda, which features the warm spiciness of ginger pulling against the oxidative-caramelly sweetness, fat and salt of the cheese. Re-imagining this in cocktail terms is interesting: the flavor components are present (ginger, oxidation, caramel, salt), we know that the equivalent of fat in the cocktail world is richness, and from this information, it's relatively simple to craft a cocktail. I'd take 2 ounces of a softer Bourbon (like Maker's Mark), ¾ ounce of Bonal, and ½ ounce of The King's Ginger, add a bare amount of salt and stir over ice. Strain into a double Old Fashioned glass over a large ice cube, rim a quarter of the glass with salt, and garnish with a young ginger shoot or coin. Here, the Bourbon is caramel sweetness and oxidative notes that are reinforced by the Bonal, which also adds balance through bitterness. The ginger liqueur obviously provides warmth and ginger flavor, and the salt (which should be undetectable until the rim comes into play) not only provides salty flavors, but subtly enhances texture and the crunch of the salt on the rim mimics the protein crystals in the aged cheese.
One of the best sources of new cocktails is old cocktails. The ability to disassemble a drink into its components is invaluable when it comes to riffing on classic drinks. Some cocktails build flavor accords, while others work on their ratios or by the pairings of ingredients to achieve a whole.
The Amaretto Sour is a commonly encountered mixed drink that is typically made as 1.5 ounces of amaretto and .5 ounces sweet and sour mix out of a soda gun (or lemon-lime soda, gah!) that has very few redeeming qualities. What goes on here? First, at two ounces, the drink is too small. Second, there isn't enough alcohol – most amaretto is 56 proof, and adding zero proof sweet and sour mix brings this down even more. Third and most troubling, this is nothing but sweetness which fails to be tempered by artificial acidity. Now enter Jeffrey Morgenthaler, of Clyde Common in Portland. Morgenthaler did a bit more than riff on the Amaretto Sour, he reimagined it. The new cocktail is now the right size for a non-Tiki drink (between three and four ounces), omits cheap, artificial sour mix for an appropriate amount of lemon juice, and adds high-proof Bourbon to bring the alcohol into line but also to enhance the vanillin aromas and flavors of the amaretto.
The Mai Tai, a drink originally designed to feature a 17 year old Wray & Nephew Jamaican rum, but today is burdened by many with passion fruit juice, pineapple juice, or the aforementioned sweet and sour mix. Matt Robold (a.k.a. Rumdood) did some yeoman's work to find a replacement for the original rum and stripped it back to its mid-century roots: rum, lime, simple syrup, orgeat, and Curaçao. Within this framework, I thought about how the drink would come across if all the color was removed from it and came up with the White Tai, which retains the lime juice and orgeat, substitutes two white rums for the aged rums, and clear Cointreau for the Curaçao. A few drops of absinthe provides aroma, ensures a white color, and is quite Tiki-appropriate.
Personally, I like to think about aromas and flavors in terms of color, something briefly touched on in my article about acidity. There are many times that I look to build a color tonality in a cocktail with the confidence that the aromas and flavors will follow. For example, ingredients that I see as "green" include obvious things like lime juice, fresh herbs, green Chartreuse and crème de menthe. Other things that aren't quite so obvious are Calvados (green paired with a strong brown note), anise-flavored things like absinthe and pastis, and grapefruit (green from terpenes, but also white from acidity and bitterness).
I know this has been a lot to digest. It's not easy telling people that inspiration comes through a thorough study of the available knowledge, looking at the world differently, then staring at your home bar and waiting for the spark to pop into your head. The good news is that fixing bad cocktails is fairly easy, and chances are that if you're a craft cocktail aficionado, you're probably also a foodie. It just takes thinking about things in a bit of a new way and a lot of practice.
This is the fourth in a series of advanced cocktail construction tutorials by Kindred Cocktails editor, Zachary Pearson.
Want the introductory series? Start with acidity.