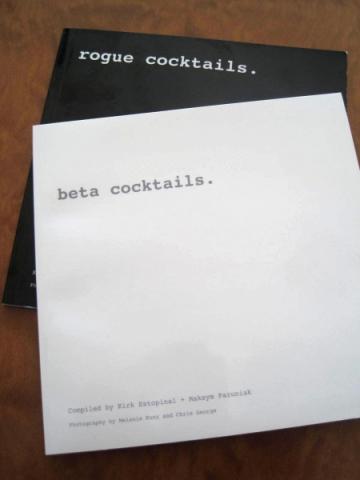 Are you a bartender that wants to find that one drink to add to your menu to make your local cocktail nerd swoon? Or maybe you're the jaded home mixer who's tried so many Manhattan variations you are sure they are running out of areas of New York? Behold: Beta Cocktails. Originally published in 2009 as Rogue Cocktails, the book is a collaboration between Maks Pasuniak and Kirk Estopinal, who met while tending bar in New Orleans. They combined a handful of their own recipes with some of their favorite boundary-pushing offerings from their colleagues and slapped the whole thing together as a self-published mini-book. Everything seemed great until Rogue Brewery came calling with a trademark infringement complaint, and Beta Cocktails was born.
Rinse a rocks glass with Campari. Stir and strain over fresh ice into rinsed glass and garnish with an orange twist.
The revised book was published in 2011, and features most of the best drinks from the original with a good helping of new additions from such high-profile bartenders as Toby Maloney of Violet Hour and the legendary Chris McMillian. There's also a brief forward from David Wondrich, but the bulk of the book is simply a list of cocktails with brief descriptions and some classy photography documenting each drink. This list includes stellar drinks like A Moment of Silence, Bitter Giuseppe, and The Warning Label. It also features a handful of drinks that were fairly well established by the time they made it into the book, like Don Lee's bitters-heavy Don's Little Bitter and Toby Maloney's brilliant Eeyore's Requiem.
Stir, strain, straight up, chilled cocktail glass rinsed in Campari, garnish.
Let's be clear: Beta Cocktails is not for everyone. There are some other things it's not. It's not a "how to" guide for making cocktails, amassing a bar, or learning about liquor. It's also not a book you should buy as your first cocktail book, or really even your third. Beta doesn't cater to the average drinker looking for something light and fruity; the drinks tend towards the bitter and the strong, and you should expect to find drinks with large portions of non-potable bitters, saline solution, and/or ungodly amounts of Fernet or Absinthe. It's also filled with lesser-known ingredients, including some like Unicum and Suze that are not currently available in the US; for the Riddles in the Dark drink you need rye whiskey, Carpano Antica vermouth, Pedro Ximenez Sherry, Nardini Amaro, R&W Orchard Cherry, and Bitter End's Moroccan bitters. If you view this list as an impediment rather than a dare, this book might not be for you.
Stirred, garnished with heavy orange oil and a pigtail twist.
Yet for the reader that is invigorated by the new, the unusual, and the challenging, this might be your new favorite book. Beta is the book for the tired palate searching for something different, but it's also a great look into the vanguard of cocktails among the new set of bartenders aiming for something different. The advantage of not trying to act like a one-stop shop for your cocktail needs is that the book is solid, interesting drink after solid, interesting drink — with no filler that usually takes up space in cocktail books. It might not be the catch-all, but Beta is one of those books that, if you like one drink, you'll probably like them all (or at least respect them, anyway). That means it's one of those books that, if you like it, you're probably going to love it. The best advice might be to just give one or two of these drinks a try. If you get the sudden urge to purchase the whole thing, don't fight it, give in to your inner cocktail geek.
Editor's note: Rated double black diamond. The book can be a bit hard to find. Try The Boston Shaker.